Thrive loves to help students learn English and find community together in classes. Our level 4 class also encourages and empowers students to reach out and make a difference in their communities.
Because of Covid-19, there are no in-person classes yet.  However, we are excited to continue online classes and online homework.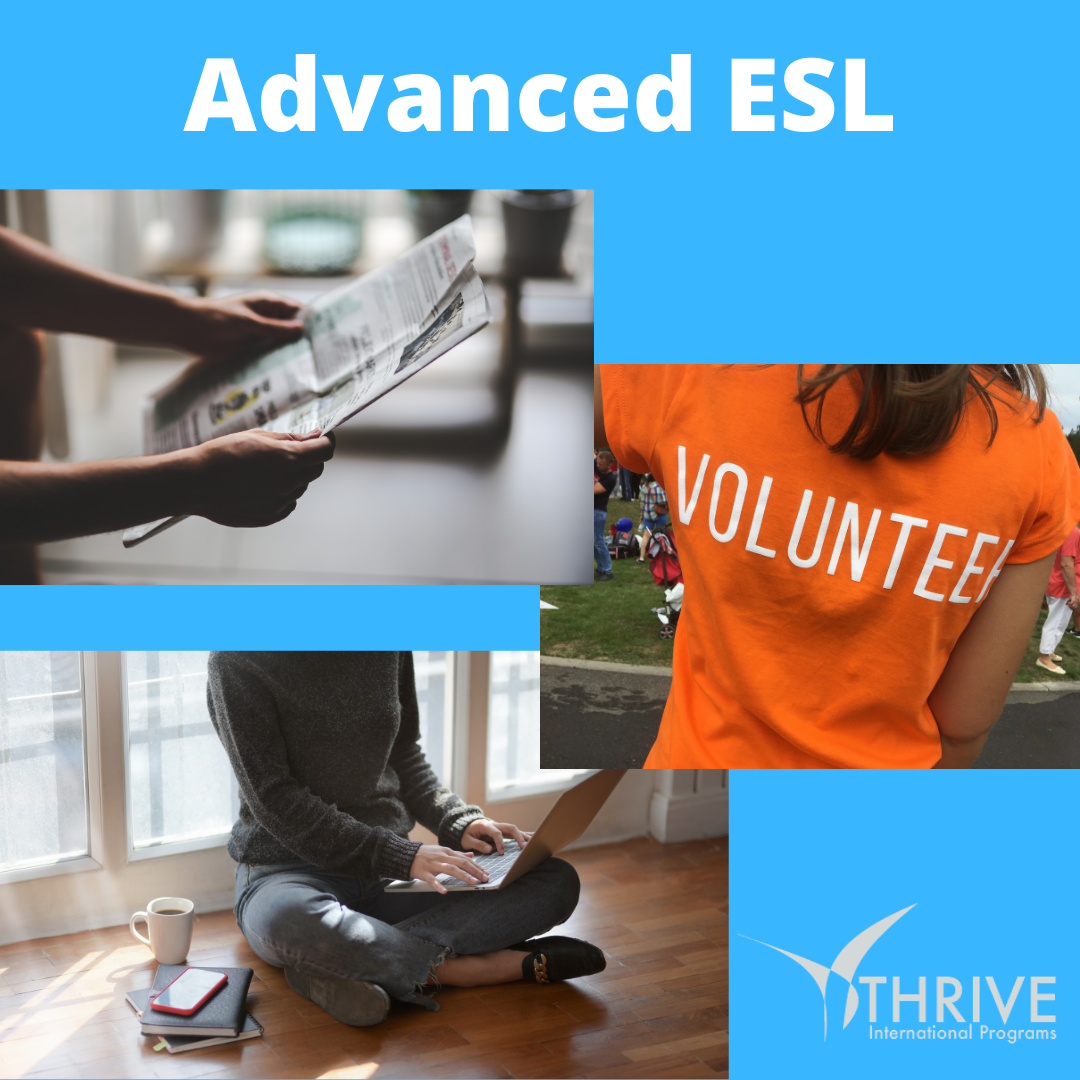 Level 4
*Online–Fridays from 9:00-10:15am (If you are interested in an evening class, please tell us.)
*Low-advanced level of English or higher
*Limit of 9 students (Preference is given to those in north-central & northeastern PA & the Lehigh Valley.  Those from other places will be considered if space permits.)
*Taught by Jody Lantz
*This class is especially for students:
who know most important grammar rules but want to practice using them more regularly in speaking and writing,
who can read most things for daily life but want to be faster and more comfortable,
who have a lot of "book knowledge" of English, but need more opportunities to interact in real life, and/or
who want to positively impact their communities.
Class and Homework
Class meetings (at the time above) are online by Zoom during Covid-19.
As a component of class, students must volunteer at least 1 hour per week.  We know this can be challenging during Covid-19.  Volunteering can be in-person or online.  It should involve communicating with others in some way or being part of a team.  We are glad to help students find volunteer opportunities at Thrive or throughout the community.  If you have never volunteered before or are nervous about it, we are here to support you.
For homework, students will write a short email about their volunteering experience and share it with a partner.  They will also record an oral journal about their experience to submit to the instructor.
During class, we will discuss students' volunteering opportunities. We will also read and discuss/write about a news article impacting ourselves, our neighbors, or our communities.
Optional homework will also be provided for issues that arise in class.  Students are encouraged, but not required, to try to read at least one news article per day on their own.
To Register
To make steady progress, Thrive asks students to make a solid commitment to learning English.  This includes coming to class regularly and doing homework daily.  If you are ready to work hard to learn English, we are ready to help. The following is information about how to register:
Students can register online or contact Ivonne at ivonne@thriveip.org. The next session starts the week of July 5, 2021, but depending on class availability, we may also accept new students at other times of the year.
At a registration meeting/appointment, new students take an assessment (exam) to see which class will be best for them.
Because classes are online, students who are anywhere in the world welcome to enroll.
We will admit students/participants of any race, color, national and ethnic origin to all the rights, privileges, programs, and activities generally accorded or made available to students within the programs. We will  not discriminate on the basis of race, color, national and ethnic origin in administration of its educational policies, admissions policies, scholarship, and loan programs, and athletic and other program-administered activities.
Fees
The registration fee is $15 if you are able to take the placement test in-person in Williamsport.  If you need a one-to-one online placement test, the registration fee is $40.
The tuition fee is $30 per month.
The cost for end of session testing is $15 if you are able to take the post test in-person in Williamsport.  If you need a one-to-one online post test, the fee is $40.  If a student pays for end of session testing and chooses to register for the next session at Thrive, his/her registration fee for the next session is waived.
If a student helps with Thrive's takeout meal the prior month, then his/her class fee is reduced to $20 the next month.
Payment is due on the first day of each month.  Students can pay online.
Scholarships
Scholarships for tuition may be available if a student has low income. We do not want the fee to prevent anyone from coming to class.  If you will have trouble paying for class, please see our scholarship application or talk to Jody or Ivonne.  Full and partial scholarships are available to students who live within a 45-minute driving distance of Williamsport, PA.  If you live in north-central/northeastern PA or the Lehigh Valley and there are no local ESL classes within 45 minutes of your home/work, we may consider a scholarship request outside this limit.
End of session testing
Students who regularly attend class and complete all homework throughout the 6-month session will have an opportunity to compete a CASAS exam at the end of the session.  This provides a nationally-recognized report of a student's English level.  Please contact Ivonne at ivonne@thriveip.org for questions about testing in other situations.